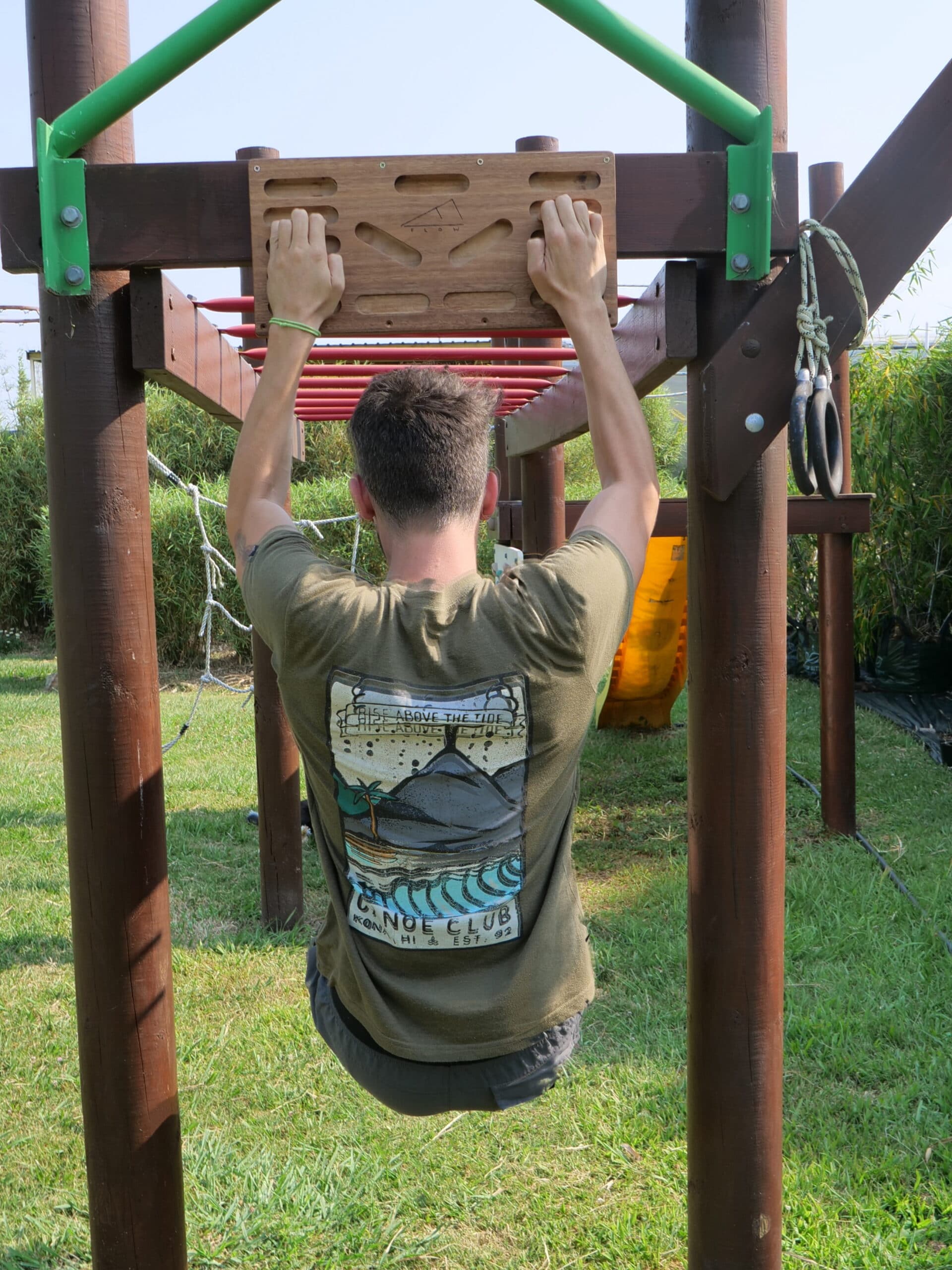 We see a training tool as anything we use to increase our climbing ability. Not just a physical object but anything that develops our strength or technique.
Everybody has their preference on training, whether it's home alone on a hangboard or extra sets at the local boulder wall. We should also mention that we know training isn't for everyone. Climbing is about enjoyment and that's unique to each person.
Here's a couple of our favourite "tools" for training. Things we think almost anyone could have access to.
Systems and Simulations
This is all about expanding your repetoire for climbing moves, as well as practicing the ones you already know. Systems boards are best for this and they come in all shapes and sizes. They're not the only way to simulate climbing moves though. You can develop moves in a variety of ways and there are plenty of youtube videos and blogs out there that will show you how to practice heel hooks on a coffee table, toe hooks on a doorway or campusing on tree branches.
We won't get into the specifics of each one but outside of climbing heaps of crags, systems and simulations are the best way to expand your moves and hone your endurance, strength and technique. The most important part of the exercise is movement, while isometric (hangboards, planks, some yoga poses) training certainly has it's place, your body needs to move. Contact strength, hand-eye coordination and your muscle memory all play a vital role in climbing a route, they will be the difference between an on-sight and several red-point attempts.
Assessments
This is a big one, it's hard to make progress if you don't measure it. We highly recommend keeping a log book for your climbing as well as a journal or preferably videos of your routes. In fact filming yourself doing circuits on a systems board is hands down the best way to improve technique. Repetition of movements combined with the ability to analyse yourself on the wall is a great way to improve. Remember if you can't spot your flaws, start with where ever you fall off or ask a friend to help you break down.
Try to make a note of specific goals and defined achievements you want to make. Both in the form of climbing grades as well as simpler goals, such as increasing reps for basic exercises. Finding your current level is the key to pushing past it, so make sure you start your training journey with an accurate assessment, which leads me to my last point.
Coaching
Find a mentor, a coach, a climbing guru and learn everything you can from them. Remember to try and find more than one as well. It's important to climb with a diverse range of strong, capable climbers, and never be afraid to climb with someone stronger than you. Having a friend or fellow climber help with beta, advice on training, or even just encouraging you to climb more can make a huge difference.
While climbing with friends and other climbers is great, there's no substitute for a professional coach. Even just a one off session with a qualified coach at your local boulder gym can make a world of difference. Coaches are trained to spot flaws in your technique and a good one should be able to provide a list of training exercises to help correct them. While a good climber will tell you to "use your feet" or "tense your core" a good coach will break it down into a step by step process and help you to understand how each body position and movement works. If nothing else see a climbing coach for your first assessment and get started on the right foot.
With 8 days until we announce we hope you're enjoying the blogs. If you've got a topic you would like to read next or a training tool you love please leave us a comment either here or on our facebook page.