You're invited to the official Launch Party to celebrate the opening of Flow Bouldering!
When: Saturday 13th February 2021 – doors open at 9am with the Launch Party from 5pm and live music from 6pm.
Where: just off the M1 Exit 201 – within 30 seconds of the Maroochydore on-ramp from the Bruce Highway, Route 8 (Maroochydore Road). Address: Flow Bouldering, 1/5 Cedarbrook Drive, Forest Glen, QLD 4556 – on Googlemaps https://g.page/flow-bouldering-gym.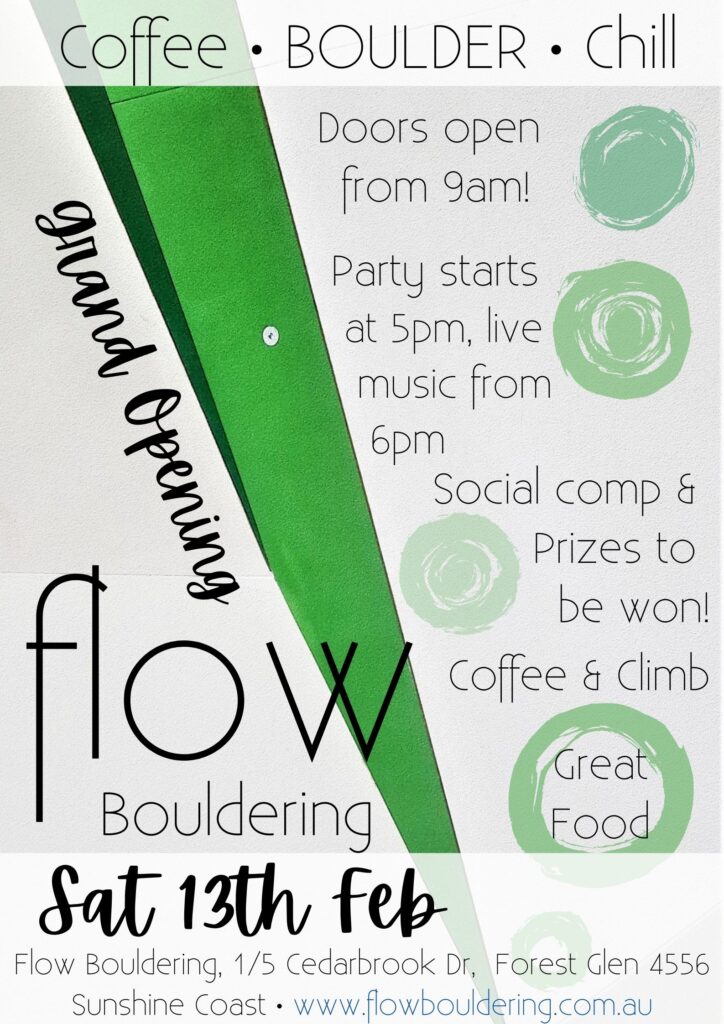 Our doors will be open from 9am if you're keen for a chill morning.
Then come celebrate in the arvo with a Pumpfest social comp, Pacos Tacos from 5pm & a beautiful line up of artists from 6pm-9pm.
If you are keen to get involved with the social comp
Here's the breakdown.
1pm – 2pm: Youth up to 122pm
2.30pm: Youth Prizes
3pm – 4pm: Juniors 13 – 16
4pm – 5pm: Opens (17 – 39) and Masters (40+)
5pm – 6pm : Juniors, Opens and Masters Prizes.
The comp will be a Pumpfest format. This means each climb will have a number. You will be given a scorecard with every climb listed. Then you have 1 hr to complete as many climbs as you can.
Rules and scoring details will be explained prior to the comp and on the back of every score card.
We have some sweet merch up for grabs, delicious food, awesome sets and amazing local artists
Discover more than 1,000 square metres, in the huge and airy Flow warehouse at Forest Glen.
The high-end climbing walls, designed and built by renowned Brisbane-based climbing company ICP, are over 350 m2 of unique climbing challenges, plus the addition of unlimited climbing on the Kilterboard Olympic training equipment.
Flow climbing walls are designed by industry experts and dedicated climbers. Every angle and every feature has been checked carefully to give climbing space with the best holds and brands available, placed and regularly updated by an experienced team of route setters.
Flow's internationally-experienced climbing coaches and unique walls help you climb better and upskill faster, bringing you their experience of climbing all over the world, training and coaching in Australia and the UK.
Bouldering and climbing challenge your mind and body, along with conquering any fear of heights, and all it requires is a pair of flexible climbing shoes, chalk, patience and determination.
A day session costs from $16/day for kids or $20 for adults; weekly memberships start at $18/week. Flow Bouldering delivers new and unique things to do on the Sunshine Coast.
We look forward to seeing you to celebrate the official opening of Flow Bouldering!
Wishing you happy climbing
The Flow Team